Take a moment and get to know a little bit more about our Yorkdale Eye Doctors. We love what we do and do what we love.
Each of our fantastic optometrists have been specially trained and bring another level of expertise to the practice.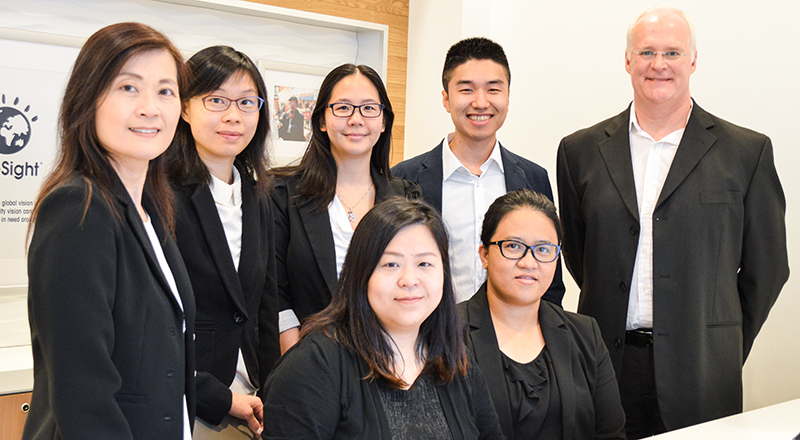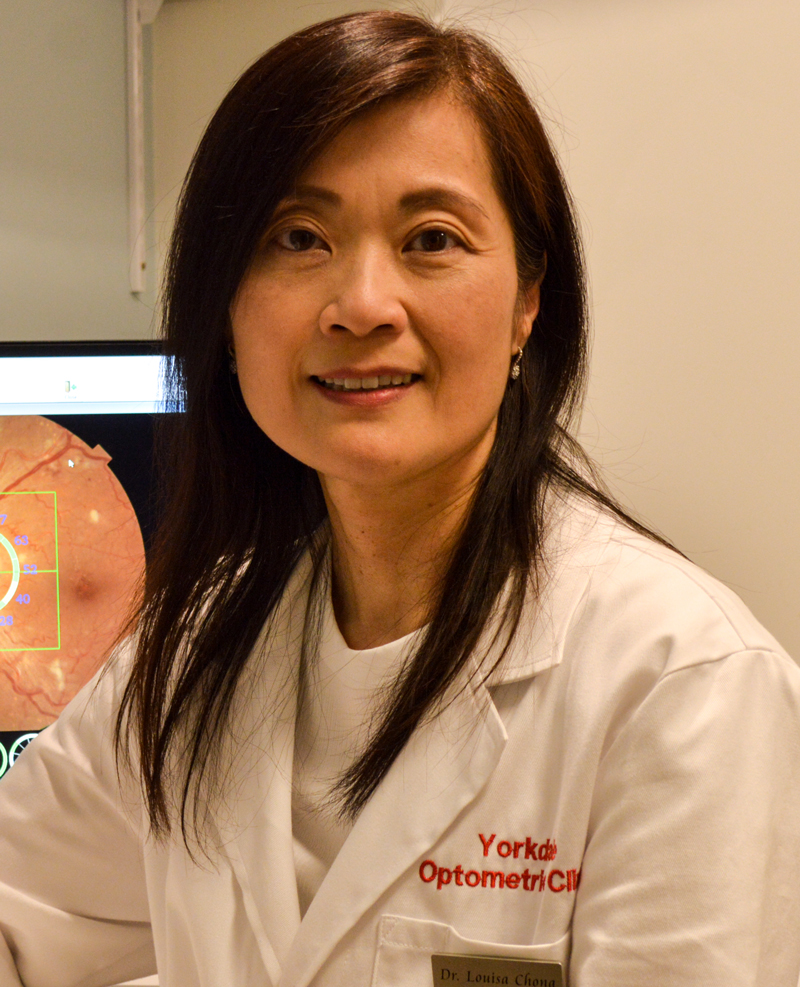 Dr. Louisa Chong
Dr. Louisa Chong is the founder of Yorkdale Optometry with over 25 years of clinical experience. She believes in providing the best quality eye care to each of her patients. She received her Bachelor of Science and Doctorate of Optometry degrees from the University of Waterloo. As part of her clinical training, she was awarded for an outreach training program at the ophthalmology department of the Prince of Wales hospital and School of Optometry at the Polytechnic University in Hong Kong.
Dr. Chong's interest in vision was inspired by her work experience at the Canadian National Institute for the Blind during her undergraduate years. After spending her summers as a youth counsellor and later a university advisor for the visually impaired, she followed her passion to pursue the profession of optometry in order to promote healthy eyes and to provide early diagnosis and treatment of ocular diseases.
Through her clinical years, she has concentrated on comprehensive eye examinations and is highly skilled in refractive techniques to determine the best prescriptions for eyeglasses and contact lenses. She also focuses on dry eyes treatments and the detection of cataracts and retinal pathologies. She enjoys educating and communicating with her patients in detail to enhance their understanding of the eyes. At the Yorkdale clinic, Dr. Chong has been proud to provide many students with mentorship and early training.
Dr. Chong is a member of the College of Optometry of Ontario, Canadian Association of Optometrists, and Ontario Association of Optometrists. She is affiliated with the Bochner Eye Institute, TLC Laser Eye Center, and North Toronto Eye Care. Dr. Chong is happily married and is a loving mother to four children. In her leisure time, she enjoys nature, hiking, skiing and travelling. She is fluent in English and Cantonese.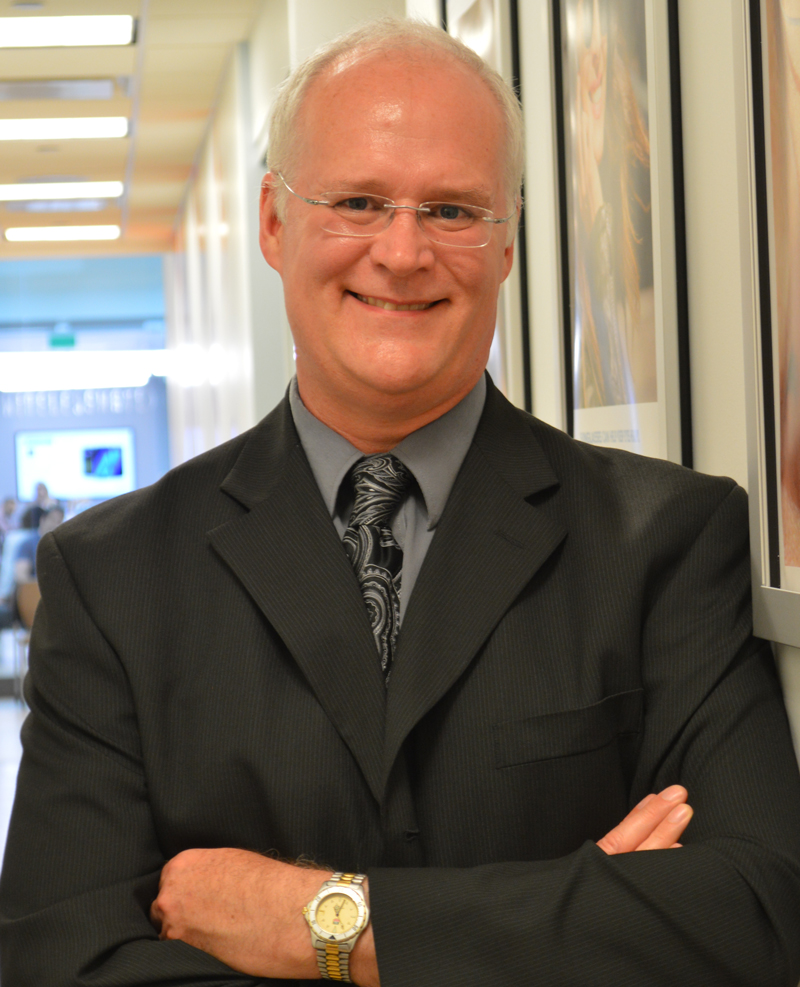 Dr. Peter Gautier
Dr. Peter Gautier graduated from University of Waterloo School of Optometry and has had the privilege of practicing optometry in Toronto for over 20 years. Born in Hamilton, Ontario and raised on the island of Montreal, Quebec, he completed a Bachelor of Science degree in biochemistry at McGill University.
To complete his optometric training, Dr. Gautier was selected to have his externship in Hong Kong. He completed rotations at the Prince of Wales hospital in Shatin, School of Optometry at the Polytechnic University, and at the private ophthalmology clinic owned by Dr. Victor Woo.
Dr Gautier's professional interests include using up-to-date technology for enhanced ocular imaging and fitting contact lenses with newer materials and designs, including multifocal lenses. His professional affiliations include membership in the International Optometric Honor Fraternity, Beta Sigma Kappa, Ontario Association of Optometrists, and the Canadian Association of Optometrists.
After graduating from optometry, he lived in Ottawa briefly and then moved to the Toronto area where he met his wife. He enjoys watching his two sons play sports (hockey, lacrosse, and karate) and listening to them play music. He is of French, Irish, and Scottish heritage, and fluent in English and French.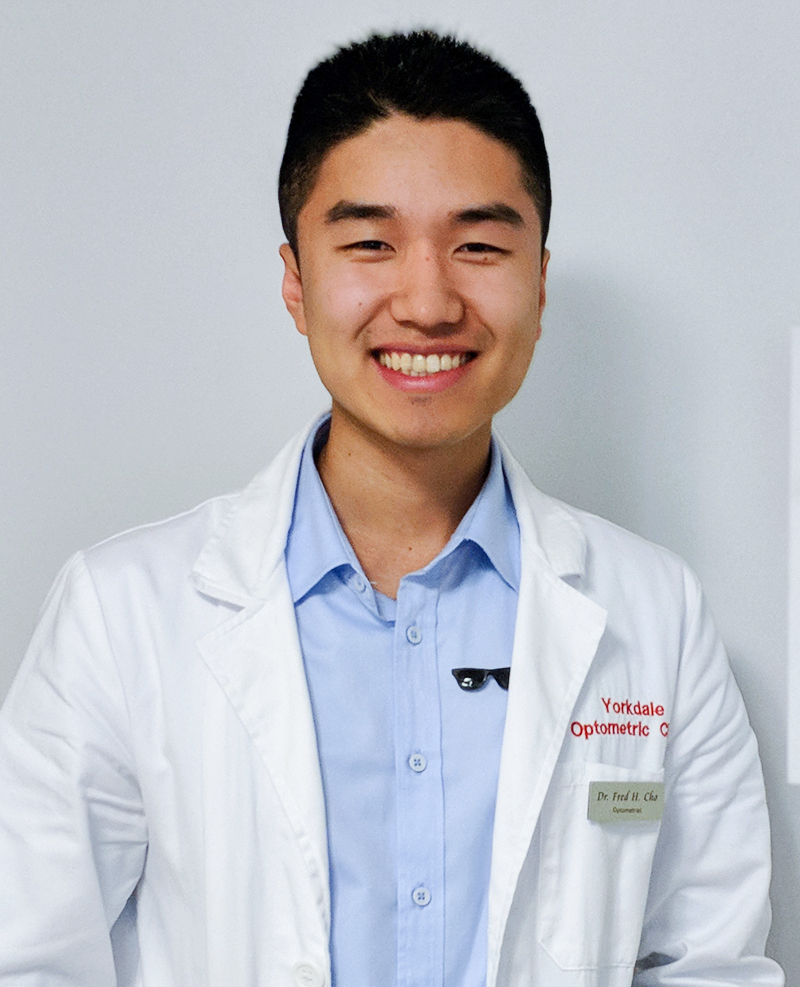 Dr. Fred Cho
Dr. Cho earned his Honours Bachelor of Medical Sciences degree from Western University with the highest academic standing in the program. He went on to receive his Doctor of Optometry degree from the University of Waterloo. He took a special interest in ocular disease with his training at various ophthalmology institutions in Mobile, Alabama, under the tutelage of  ophthalmologists specializing in retina disease, cornea, neuro-ophthalmology, and oculoplastics.
A wooden splinter lodged under Dr. Cho's eye while travelling and the subsequent care that he received from a kind optometrist set him on a path to optometry. His aspirations were emboldened when he participated on a mission trip to Chiapa de Corzo, Mexico, where he and other optometry students provided eye care to an impoverished population. Experiences like those, and his upbringing, instilled in him a profound belief in transparency and patient-centered care. He also strives for thorough patient education, which empowers people to make well-informed decisions regarding their ocular health.
Dr. Cho is committed to providing comprehensive eye care including contact lenses, ocular disease, and ocular imaging. His professional memberships include the Canadian Association of Optometrists, the College of Optometrists of Ontario, and the Ontario Association of Optometrists.
In his spare time, Dr. Cho enjoys mentoring youth, instrumental music, and playing squash. He is fluent in English and Korean.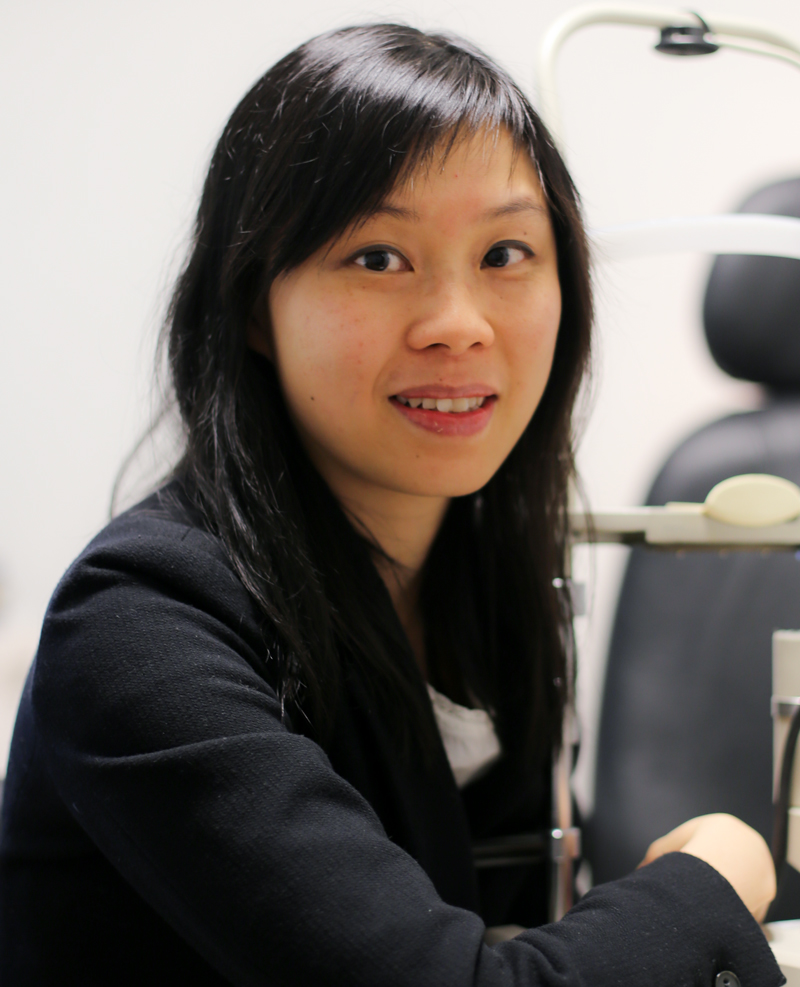 Dr Michelle Wong
Dr. Michelle Wong received her Doctor of Optometry in 2002 from the University of Waterloo with the distinction of the Dean's Honour List and has been practicing full scope optometry with Yorkdale Optometry since graduation. During this time, she has established herself as a specialist in the areas of diagnosis and management of ocular diseases, contact lens evaluation, refractive eye surgery consultation, and dry eyes treatments. She has received multiple awards and scholarships including the Award in Ocular Pharmacology, Biomedical Contact Lens Award, Alcon Award in Ocular Physiology & Pharmacology, Provost Incentive Award, Lyle/Fisher/Bobier Research Award, and the American Optical Scholarship.
Dr. Wong believes in thorough eye examinations for prevention of disease and vision loss at all ages. She takes pride in spending time in addressing her patients' concerns and enjoys educating and counselling patients, whether it is about eyeglass options, contact lenses, or specific ocular diseases and treatment options.
She completed her ocular disease and therapeutic management externship at Baltimore's OMNI Eye Specialist, a leading centre in the treatment of cataracts, laser vision correction, paediatrics, retinal, corneal disease and glaucoma. She also had the privilege of acting as the principal optometrist for a mission trip to Morocco with Voluntarios de Santa Cruz in 2008.
Outside the clinic, Dr. Wong enjoys reading, and exploring nature, hiking, and travelling with her husband and two sons.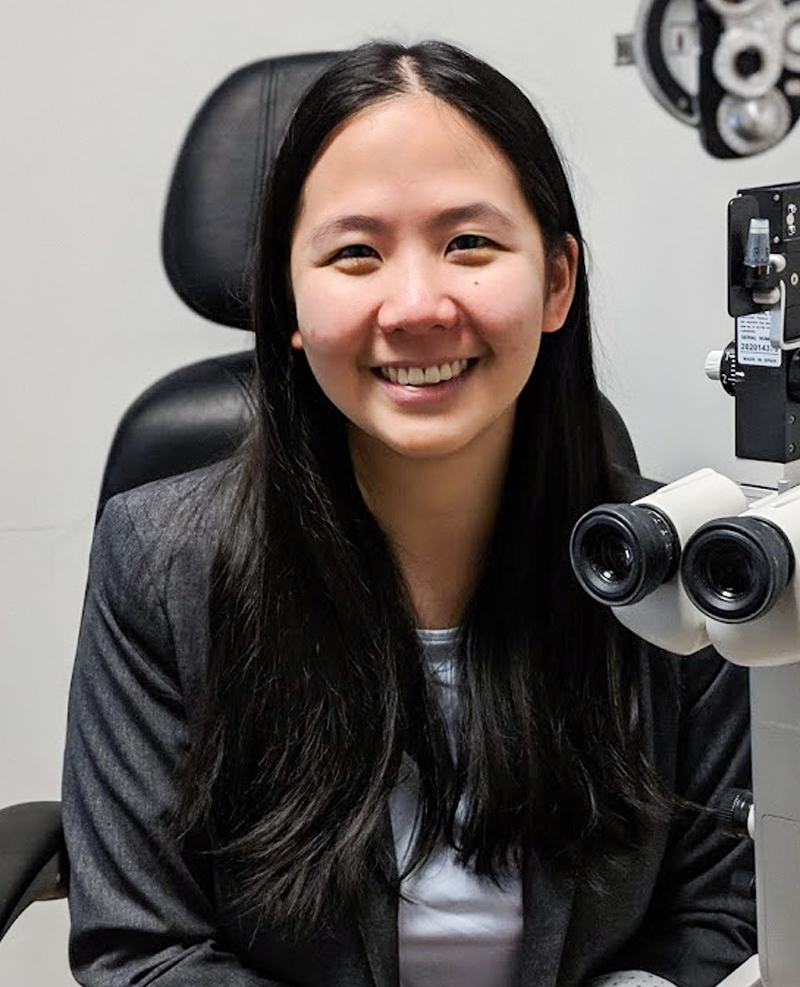 Dr. Monica Lee
Dr. Lee's fascination with how the body functions inspired her to pursue a career in health care. She earned her Bachelor of Life Science from Queen's University in 2012 and then graduated from the University of Waterloo with a Doctor of Optometry degree in 2016.
During her training, Dr. Lee completed an Ocular Disease externship in Detroit, Michigan that focused on retinal disease and glaucoma. She also traveled to Peru and Mexico to provide eye care to under-served populations and looks forward to doing so again in the future.
She is grateful to be a part of a profession where she can positively influence a patient's lifestyle by maintaining good visual function and ocular health. She will continue growing her experience and knowledge base while pursuing her interest in specialty contact lenses.
Dr. Lee enjoys outdoor activities and travelling with friends and family. She speaks English and Cantonese.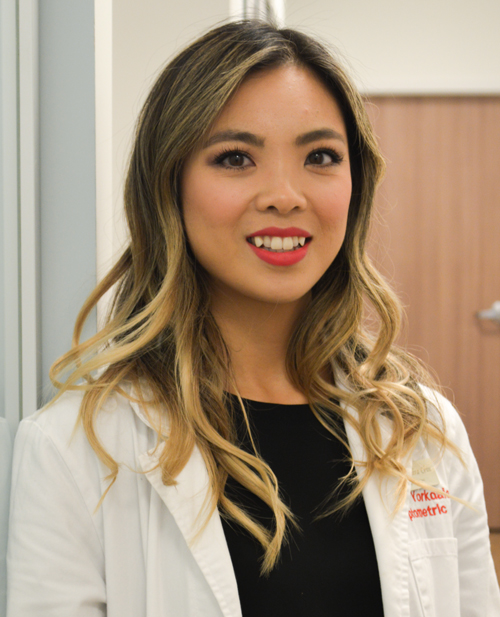 Dr. Sandra Chiu
Dr. Sandra Chiu was born and raised in Toronto, Ontario. She earned her Honours Bachelor of Medical Science degree from Western University (previously University of Western Ontario) in 2010. Immediately following graduation, she moved to Boston, Massachusetts to pursue a degree in optometry. Dr Chiu graduated first in her class and was honored as the Valedictorian of her graduating class in 2014.
As part of her training, Dr. Chiu completed externships at several leading medical institutions. She received specialty pediatric training at Bascom Palmer Eye Institute in Miami, Florida, which has been consistently ranked as the number one ophthalmology hospital in the United States. She also completed advanced ocular disease training at the University of Maryland in Baltimore, MD and at White River Junction VA Medical Center in Vermont. At these institutions, Dr. Chiu worked closely with internationally-renowned ophthalmologists and optometrists with specific focus on the diagnosis and treatment of pediatric eye disease, retinal disease, glaucoma, and neuro-ophthalmological disease.
Dr Chiu is committed to providing the best eye care to her patients, including access to the latest technology and advancements in contact lens materials, dry eye treatments, and ocular imaging. She is a member of the Beta Sigma Kappa International Optometric Honor Society, Ontario Association of Optometrists, and Canadian Association of Optometrists.
She takes a special interest in exercise science and nutrition with a focus on the effects of lifestyle and aging. For recreation, she enjoys travelling and exploring the city of Toronto with her two Siberian huskies. Dr Chiu is fluent in English and Cantonese.