Take a moment and get to know a little bit more about our Yorkdale Eye Doctors. We love what we do and do what we love.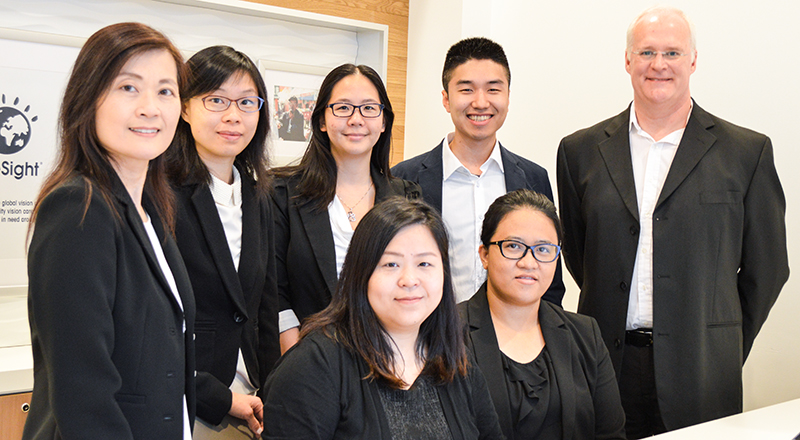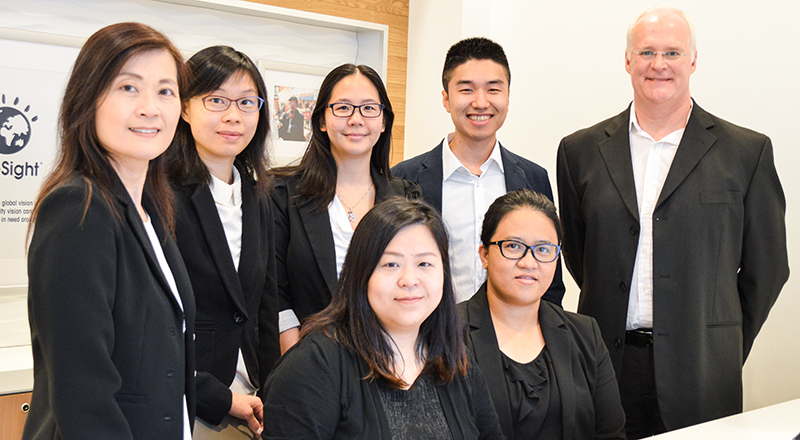 Each of our fantastic optometrists have been specially trained and bring another level of expertise to the practice.
Dr. Louisa Chong
Dr. Louisa Chong is the founder of Yorkdale Optometry with over 30 years of clinical experience. She achieved academic excellence in her Bachelor of Science degree and her Doctor of Optometry degree at the University of Waterloo, Canada. As part of her clinical training, she was selected by the university for an outreach training program at the ophthalmology department of the Prince of Wales hospital and School of Optometry at the Polytechnic University in Hong Kong.
Dr. Chong's interest in vision was inspired by her work experience at the Canadian National Institute for the Blind during her undergraduate years. After spending her summers as a youth counsellor and later as a university advisor for the visually impaired, she followed her passion to pursue in the profession of Optometry to provide early diagnosis and treatment of ocular conditions and diseases.
Throughout her clinical years, her patients receive comprehensive eye examinations with the aid of computerized instruments and advanced retinal imaging technology. She is highly skilled with her refractive techniques in the determination of prescriptions for eyeglasses and contact lenses. Dr. Chong's expertise is in dry eye treatment, the detection of cataracts, and retinal pathology. She enjoys educating and communicating with her patients to enhance their understanding of eye anatomy and to promote healthy eye management. At Yorkdale clinic, Dr. Chong has mentored many students with high standards of training.
Dr. Chong is a member of the College of Optometry of Ontario, Canadian Association of Optometrists, and Ontario Association of Optometrists. She is affiliated with the Bochner Eye Institute, TLC Laser Eye Center, and North Toronto Eye Care. She is fluent in English and Cantonese.
Dr. Peter Gautier
Dr. Peter Gautier graduated from University of Waterloo School of Optometry and has had the privilege of practicing optometry in Toronto for over 20 years. Born in Hamilton, Ontario and raised on the island of Montreal, Quebec, he completed a Bachelor of Science degree in biochemistry at McGill University.
To complete his optometric training, Dr. Gautier was selected to have his externship in Hong Kong. He completed rotations at the Prince of Wales hospital in Shatin, School of Optometry at the Polytechnic University, and at the private ophthalmology clinic owned by Dr. Victor Woo.
Dr Gautier's professional interests include using up-to-date technology for enhanced ocular imaging and fitting contact lenses with newer materials and designs, including multifocal lenses. His professional affiliations include membership in the International Optometric Honor Fraternity, Beta Sigma Kappa, Ontario Association of Optometrists, and the Canadian Association of Optometrists.
After graduating from optometry, he lived in Ottawa briefly and then moved to the Toronto area where he met his wife. He enjoys watching his two sons play sports (hockey, lacrosse, and karate) and listening to them play music. He is of French, Irish, and Scottish heritage, and fluent in English and French.
Dr. Fred Cho
Dr. Cho earned his Honours Bachelor of Medical Sciences degree from Western University with the highest academic standing in the program. He went on to receive his Doctor of Optometry degree from the University of Waterloo. He took a special interest in ocular disease with his training at various ophthalmology institutions in Mobile, Alabama, under the tutelage of ophthalmologists specializing in retina disease, cornea, neuro-ophthalmology, and oculoplastics.
A wooden splinter lodged under Dr. Cho's eye while travelling and the subsequent care that he received from a kind optometrist set him on a path to optometry. His aspirations were emboldened when he participated in a mission trip to Chiapa de Corzo, Mexico, where he and other optometry students provided eye care to an impoverished population. Experiences like those, and his upbringing, instilled in him a profound belief in transparency and patient-centered care. He also strives for thorough patient education, which empowers people to make well-informed decisions regarding their ocular health.
Dr. Cho is committed to providing comprehensive eye care including contact lenses, ocular disease, and ocular imaging. His professional memberships include the Canadian Association of Optometrists, the College of Optometrists of Ontario, and the Ontario Association of Optometrists.
In his spare time, Dr. Cho enjoys mentoring youth, instrumental music, and playing squash. He is fluent in English and Korean.
Dr Michelle Wong
Dr. Michelle Wong received her Doctor of Optometry in 2002 from the University of Waterloo with the distinction of the Dean's Honour List and has been practicing full scope optometry with Yorkdale Optometry since graduation. During this time, she has established herself as a specialist in the areas of diagnosis and management of ocular diseases, contact lens evaluation, refractive eye surgery consultation, and dry eyes treatments. She has received multiple awards and scholarships including the Award in Ocular Pharmacology, Biomedical Contact Lens Award, Alcon Award in Ocular Physiology & Pharmacology, Provost Incentive Award, Lyle/Fisher/Bobier Research Award, and the American Optical Scholarship.
Dr. Wong believes in thorough eye examinations for prevention of disease and vision loss at all ages. She takes pride in spending time in addressing her patients' concerns and enjoys educating and counselling patients, whether it is about eyeglass options, contact lenses, or specific ocular diseases and treatment options.
She completed her ocular disease and therapeutic management externship at Baltimore's OMNI Eye Specialist, a leading centre in the treatment of cataracts, laser vision correction, paediatrics, retinal, corneal disease, and glaucoma. She also had the privilege of acting as the principal optometrist for a mission trip to Morocco with Voluntarios de Santa Cruz in 2008.
Outside the clinic, Dr. Wong enjoys reading, exploring nature, hiking, and travelling with her husband and two sons.
Dr Jessica Chong
Dr. Jessica Chong graduated from the University of Waterloo receiving her Doctor of Optometry degree with Dean's Honours. She is currently a member of the Canadian Association of Optometrists and Ontario Association of Optometrists. She completed her clinical rotations in Winnipeg, Manitoba where she gained experience in primary care, pediatrics, contact lens fitting, and dry eye management. Dr. J. Chong received extensive ocular disease training at the GEM Clinic, during which time, she worked alongside glaucoma specialists and cataract surgeons to comanage patients with advanced ocular conditions and perform pre/post-operative assessments. Dr. J. Chong utilizes her refined clinical skills to provide high-quality patient-centered care.
During her studies, Dr. J. Chong participated in an outreach program to Jamaica where she performed optometric screenings and assisted in the donation of glasses to rural communities which did not have regular access to eye care. In addition, she worked with the Canadian National Institute for the Blind (CNIB) to create a program that helped children with vision loss achieve their goals by learning adaptations to maintain their independence. These experiences serve as reminders of the impact optometry has outside of clinical settings and continue to inspire Dr. J. Chong to give back to the community, both locally and internationally.
Dr. J. Chong is a strong believer in patient education and ensures her patients are well informed and involved in the decision-making process of their care management. She provides information and recommendations on the latest lens designs and treatment options in order to optimize vision and comfort. Dr. J. Chong is committed to providing comprehensive ocular examinations to patients of all ages. She has special interests in pediatrics and ocular disease management and strives to ensure every patient receives premium eye care.
Dr Stephanie Wong
Providing a friendly and professional eye care experience has always been the top priority for Dr. Stephanie Wong. Patients have enjoyed working with Dr.Wong as she spends quality time with patient education on their diagnoses, management, and involving patients with providing options of treatment plans along with advice for dispensing needs for glasses and contact lenses. Dr. Wong performs routine eye examinations, contact lens fittings, diagnoses and treats eye conditions including dry eyes, cataracts, glaucoma, diabetic retinopathy and macular degeneration and is TPA certified to prescribe medications for ocular conditions.
Dr. Wong is licensed by the Ontario College of Optometrists and General Optical Council to practice in Canada and the UK and is a proud member of the following professional associations:
Canadian Association of Optometrists
Ontario Association of Optometrists
College of Optometrists UK (MCOptom)
Dr. Wong was born and raised in Toronto and received her Honours Bachelor of Science at the University of Toronto in Biology and Psychology. She wanted to explore and travel thus has decided to receive her Optometry training at Anglia Ruskin University in Cambridge, UK. After practicing primary eye care in the UK for a few years, Dr. Wong wanted to be closer to her family and pursued further training from New England College of Optometry (NECO) in Boston. Her training at NECO provided her greater exposure for seeing a diversity of patients with ocular diseases and specialty contact lens fittings in clinical settings such as community eye centers, Veteran Affairs Medical Center, and private practices. Upon returning to Toronto, Dr. Wong takes pride in joining the team at Yorkdale Optometry to provide exceptional eye care experiences for patients.  Dr. Wong is fluent in both English and Cantonese.
Outside of Optometry, Dr. Wong has a passion for volleyball, practicing yoga regularly, and exploring countries to experience different foods and cultures.
Dr Tien Ren
Dr. Gao received his Honours Bachelor of Science with Joint Honours Music degree from the University of Waterloo. He continued his education in Waterloo by attending the University of Waterloo's School of Optometry where he graduated as a member of the class of 2020.
Dr. Gao was first introduced to the Cello when he was 7 years old. His love for classical music prompted him to learn about music theory, music history and Western culture. He continued his studies for music into his time at the University of Waterloo where he would learn about music in film, music production, acapella, jazz and hip-hop. Every genre of music carried an insight into a new culture and Dr. Gao was hooked. When considering careers, Dr. Gao wanted something that gave back to the world and allowed travelling and the exploration of new cultures. This landed him at the doors of optometry.
During optometry school, Dr. Gao attended an American Optometric Association's Optometry Meets event as an international (Canadian) student in Washington D.C. in 2017, participated in a humanitarian mission with VOSH (Volunteer Optometric Services to Humanity) in Straseni, Moldova in 2018, participated in a humanitarian mission in Tepehuanes, Mexico in 2019, and started an internship at the Polytechnic University of Hong Kong's Optometry Clinic in 2019 before world events abruptly intervened. Prior to graduating in 2020, Dr. Gao also studied under the Ophthalmologists at the CNIB (Canadian National Institute for the Blind).
Dr. Gao is committed to providing comprehensive eye care to patients of any and all walks of life. He is a member of the Canadian Association of Optometrists, the College of Optometrists of Ontario, and the Ontario Association of Optometrists.
To relax, Dr. Gao enjoys all forms of music in any genre, bouldering, breakdancing, hiking, camping, travelling and a lot of reading. Dr. Gao is fluent in English and Mandarin.